News
Posted on Monday, November 14, 2022 03:14 PM
Masks, Vaccination strongly recommended as Respiratory illnesses surge
News Release - Huron Perth Public Health - Monday, November 14, 2022
Huron Perth, ON – Many respiratory illnesses are circulating; Huron Perth Public Health (HPPH) urges the community to use all layers of protection, especially masking and vaccination, to protect themselves, their families, and the broader community.
HPPH has seen an earlier start to the influenza and respiratory syncytial virus (RSV) season this year, and...
Posted on Monday, November 07, 2022 10:02 AM
Parking is not permitted on any street or parking lot within the Municipality of Central Huron between the hours of 2:00 AM and 6:00 AM, from November 15, 2022 to April 1, 2023. Vehicles impeding snow removal will be towed at the owner's expense.
Please ensure that recycling and garbage are placed in a location so as not to interfere with snow plow operations.
Please note that there is no practical way to plow the roads without depositing snow into driveways and that equipment breakdowns and/or...
Posted on Wednesday, November 02, 2022 02:20 PM
Food Insecurity Survey
Have you struggled to put food on the table? Have you been feeding your family on a tight budget? Take the survey to have your voice heard on food security in Perth-Huron!
You could win 1 of 20 $40 grocery gift cards. You must be over 18 years of age, and one survey per family. Survey closes November 30, 2022. Paper surveys are available upon request by emailing wwellington@perthhuron.unitedway.ca.
Posted on Wednesday, October 19, 2022 02:27 PM
Property assessments for the 2022 and 2023 property tax years will continue to be based on January 1, 2016 current values. We continue to update property information during non-Assessment Update years. Notices are mailed to property owners throughout the year to inform them of changes made to their property information.
Watch the video on how to Read your Property Assessment Notice https://youtu.be/oQZMdIxoiYs

The notice includes specific instructions for letting us know that you don't...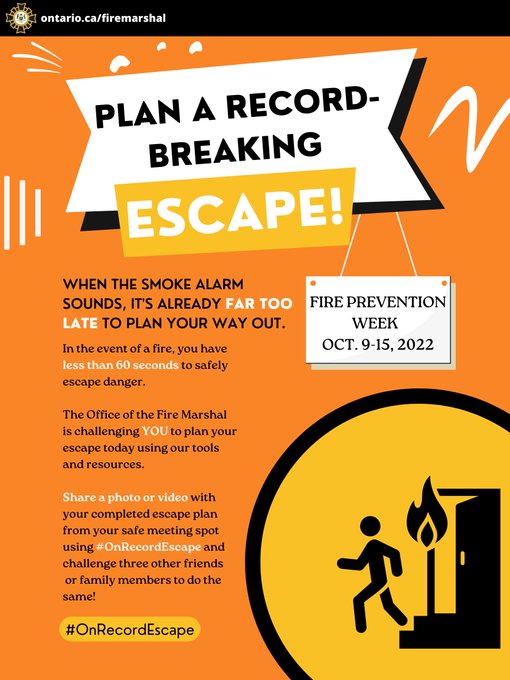 Posted on Tuesday, October 11, 2022 09:14 AM
This year's Fire Prevention Week campaign is, "Fire won't wait. Plan your escape", works to educate everyone about simple but important actions they can take to keep themselves and those around them safe from home fires.
Today's homes burn faster than ever. You may have as little as two minutes or less to safely escape a home fire from the time the smoke alarm sounds. Your ability to get out of a home during a fire depends on early warning from smoke alarms and advance planning.
Home fire escape...