Council
Central Huron Council 2022-2026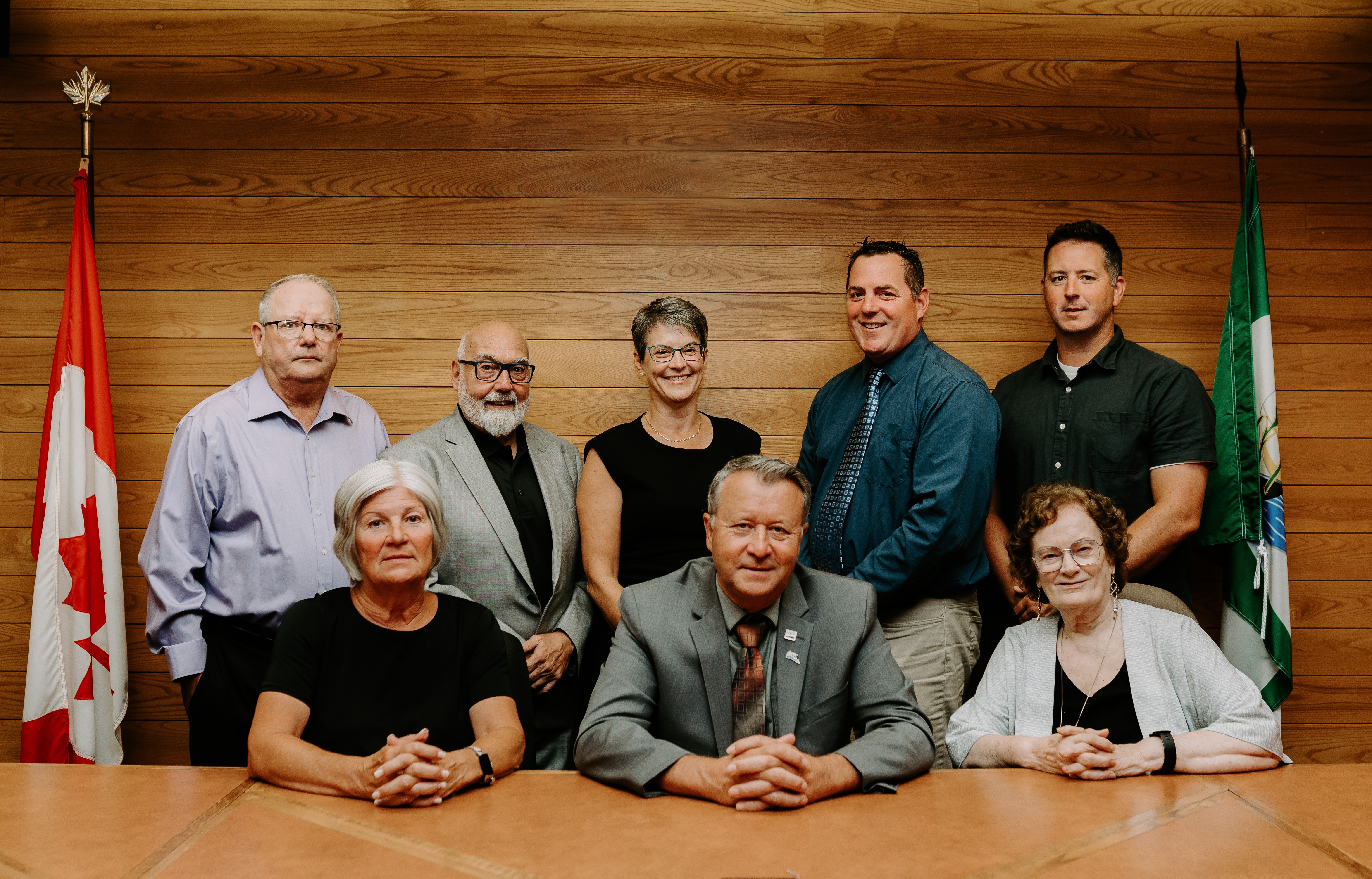 Back row L-R: Councillor Dan Colquhoun, Councillor Michael Russo, Councillor Jennifer Cox, Councillor Everett Smith, Councillor Adam Robinson
Front row L-R: Deputy Mayor Marg Anderson, Mayor Jim Ginn, Councillor Alison Lobb
Role and responsibility of Council
The governing body of the Municipality of Central Huron is the Council. It consists of Mayor, Deputy Mayor and three Councillors from each of the two Wards (East & West). The ratepayers of the Municipality elect the Members of Council for a four-year term of office. Having both legislative and executive responsibilities, Council deals with matters that require policy direction, By-Laws or By-Law amendments and responses or actions to pertinent issues.
It is the role of the Head of Council (the Mayor):
to act as chief executive officer of the municipality;
to preside over council meetings;
to provide leadership to council;
to represent the Municipality at official functions; and
to carry out the duties as the head of council under this or any other act.
It is the role of Council:
to represent the public and to consider the well-being and interests of the Municipality;
to develop and evaluate the policies and programs of the Municipality;
to determine which services the Municipality provides;
to ensure that administrative practices and procedures are in place to;
implement the decisions of Council;
to maintain the financial integrity of the Municipality; and
to carry out the duties of Council under this or any other act.
Council members and contact information
| Name | Position | Email | Telephone Number |
| --- | --- | --- | --- |
| Jim Ginn | Mayor | | 519-524-2522 |
| Marg Anderson | Deputy Mayor | | 519-525-6647 |
| Alison Lobb | West Ward Councillor | | 519-525-2229 |
| Adam Robinson | West Ward Councillor | | 519-441-0009 |
| Michael Russo | West Ward Councillor | | 519-955-1660 |
| Dan Colquhoun | East Ward Councillor | | 519-482-3997 |
| Jennifer Cox | East Ward Councillor | | 519-440-9274 |
| Everett Smith | East Ward Councillor | | 226-921-1282 |
Council Meetings
Regular Council Meetings are held on the First and Third Monday of every month at 5:00 PM, unless otherwise stated on our Council Meeting Calendar.
If you wish to address Council at a Council Meeting, please submit a deputation request prior to 10:00 AM the Thursday prior to the meeting.
Council Code of Conduct
A Code of Conduct was adopted in 2013 and applies to members of Central Huron and local boards.
A Code of Conduct serves as a reference guide on ethical behaviour when members are acting in their official capacity, and supplements legislative standards and parameters within which members are obligated to conduct themselves.
A Code of Conduct encourages the public's right to expect that its representatives adhere to the highest standards of conduct. Adherence to such standards will in turn help to protect and maintain a municipality's reputation and integrity.
For information on how to make a complaint, please contact the Clerk who will outline the process. The Clerk can be contacted by email at clerk@centralhuron.com or by telephone at 519-482-3997 ext. 1246.
Council Remuneration Summary 2022
2022 Central Huron Council Remuneration
Honourarium (Annual rate paid bi-weekly)
Mayor - $14,422.72
Deputy Mayor - $9,848.28
Councillor - $6,555.64
Per-diem Meeting Attendance:
Council Meeting $146.85 (per meeting)
Committees & Other Pre-Authorized Commitments (less than 3 hours) $88.09
Committees & Other Pre-Authorized Commitments (more than 3 hours) $146.85
Committees & Other Pre-Authorized Commitments (more than 5 hours) $278.36
Mileage:
Per kilometer for meetings attended outside of the Municipality $0.59 cents
Conference, Seminar & Education Expenses:
Maximum annual conference spending (excluding per-diem) $3232.49
Maximum annual education spending (excluding per-diem) $1144.91
(must have pre-approval by Council resolution)
Meal expenses (per day, with receipts, if not covered by conference registration) $64.65