Roads and Parking
Central Huron's Roads Department is responsible for the maintenance of approximately 343 km of roads.
Road maintenance includes plowing, sanding, grading, ditching, patching pot holes, re-surfacing, installing and maintaining sidewalks, culvert installations, roadside maintenance, tree trimming and disposal of road kill.
Commencing May 25, 2021, the Municipality of Central Huron intends to control noxious weeds along municipal roadsides through spot spraying where noxious weeds have been identified. See the Public Notice of Pesticide Use for a full listing of locations.
Grass Maintenance
The map included below indicates the current status of Grass Cutting as of Friday, September 30, 2022 for the Municipality of Central Huron roadways.
Black lines indicate the work that has been completed
Green lines reveal which roadways still need cut
Red lines indicate County roadways, which we are not responsible for the upkeep of the grass.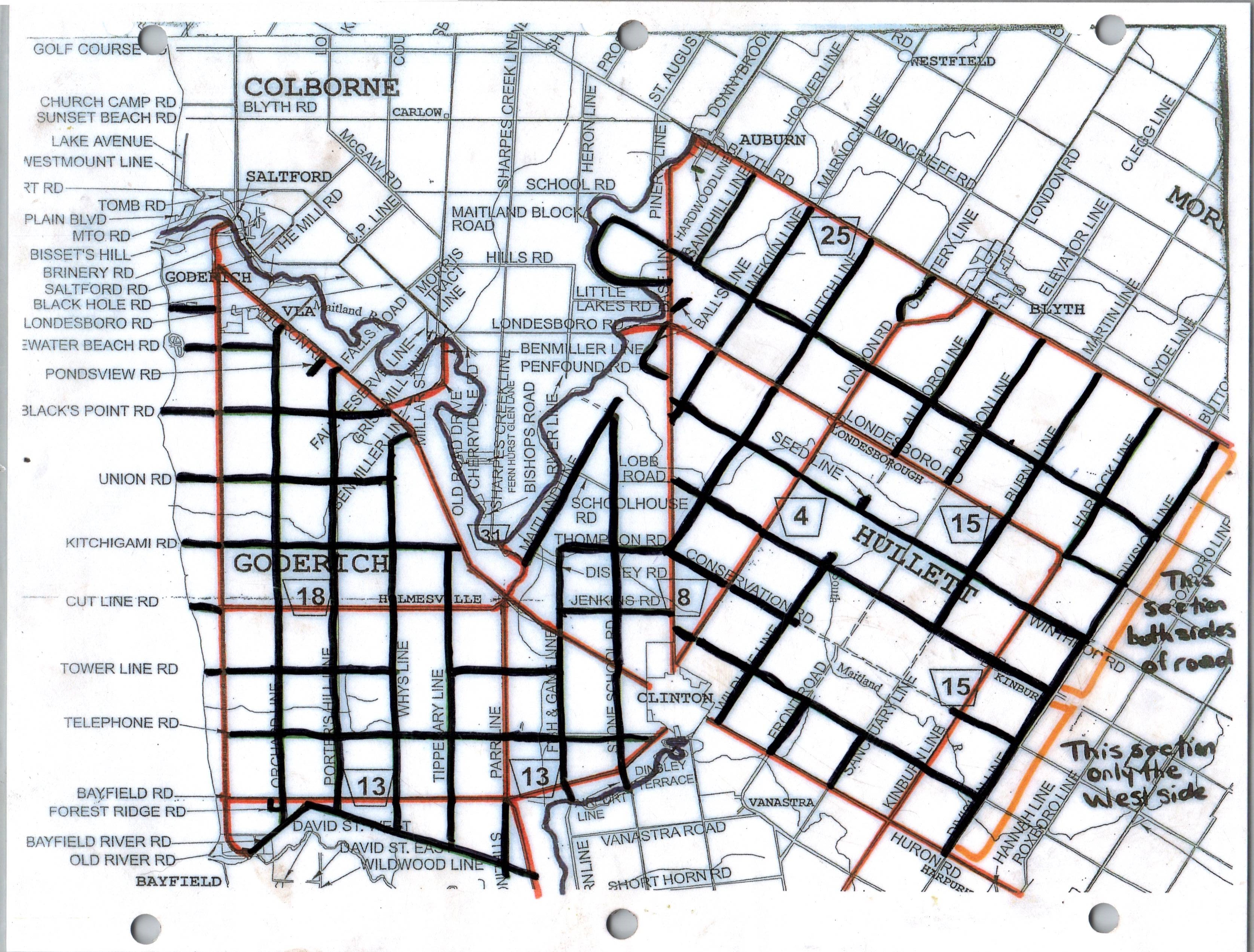 Parking
Where, how and when you can park is outlined in Central Huron's Parking By-Law.
Winter Parking
There is no parking between 2:00 a.m. to 6:00 a.m. from November 15th until April 1st.
Winter Maintenance
From October 1 to April 30, we perform daily road patrols to monitor conditions and prepare responses to winter events. We also monitor various weather information sources for a consistent forecast to plan operational responses.
Less than 8 cm of snow
We begin salting operations, and/or scraping of roads if required.
Greater than 8cm of snow
We plow all roads and sidewalks, beginning with priority routes and then secondary routes.
Post storm patrols and service concerns
We push back snowbanks, blow back intersections, clean up sidewalks, snow bank removal, address specific concerns etc.
Emergency Contact
If you should have any questions or concerns pertaining to the Roads Department please contact the Municipal office at 519-482-3997 or email roads@centralhuron.com between the hours of 8:30 am to 4:30 pm, Monday to Friday.
You can call 519-441-3192 for Road emergencies after 4:30 pm or on weekends.