Isaac Street Construction Project 2023
Central Huron is pleased to share that Isaac Street in Clinton is scheduled for a complete reconstruction this summer. This project is scheduled to begin in late May, and will require four to six months to complete.
For up to date information, please visit the Central Huron Business Improvement Association dedicated web page.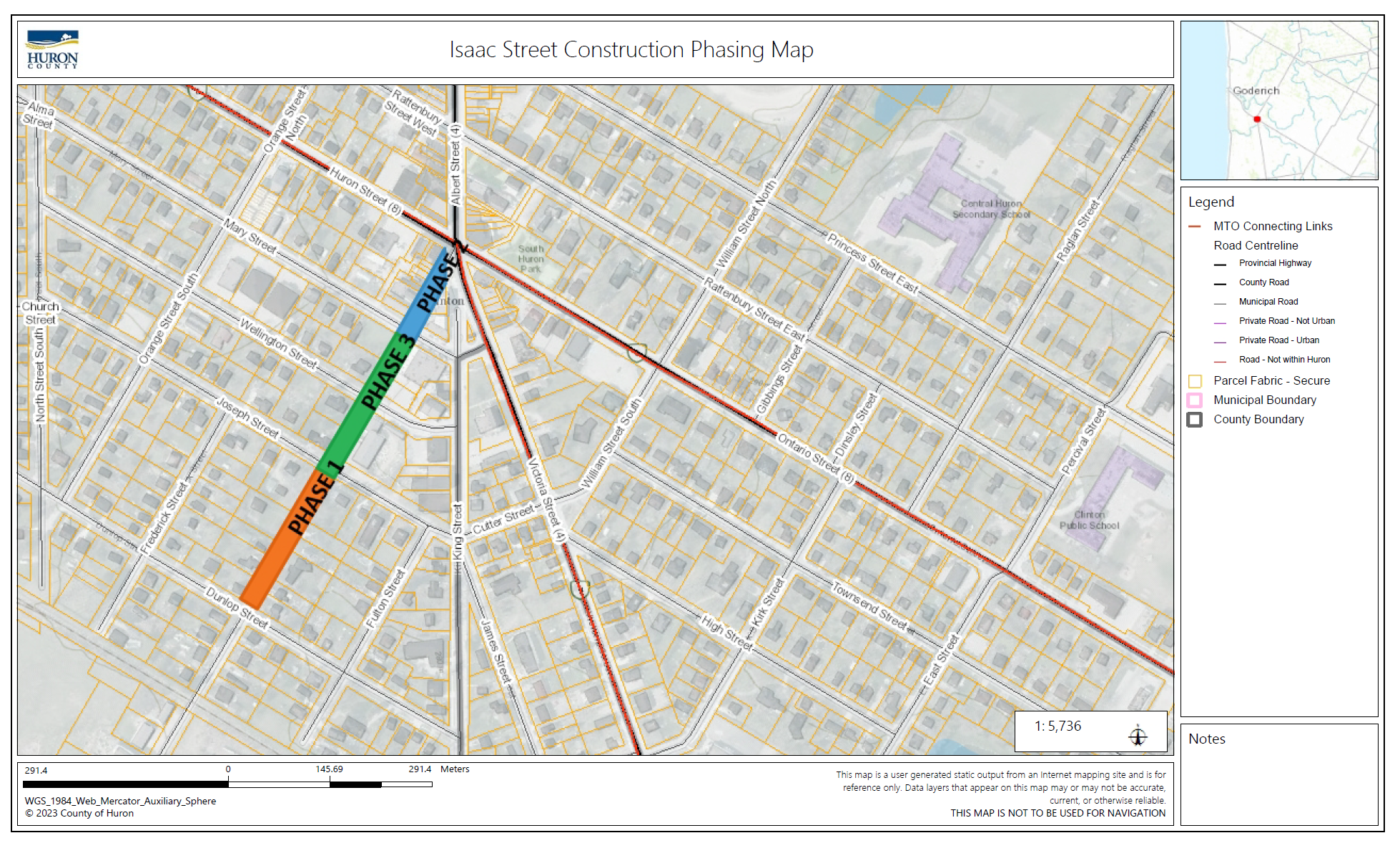 Commencement of the Isaac St. Construction Project
Council passed the 2023 Capital budget which includes the full reconstruction of Isaac Street. This project has been in the Capital Plan for some time and the Municipality is looking forward to finally implementing this infrastructure improvement. The current conditions are very poor and this project will provide much needed improvements to Isaac Street, adding to the downtown aesthetic and providing better servicing to the rate payers in that area.
It should be noted that the Municipality received $254,777 in government funding for the watermain replacement through the Investing in Canada Infrastructure Program (ICIP).
Scope of Work
Enbridge: replacement of gas lines and in the downtown area, installing new gas meters/regulators.
Replacement of water, sewer & storm mains.
Replacement of the water/sewer servicing and adding storm servicing into the buildings on the block between Huron & Mary streets. Replacing water/sewer servicing and adding storm servicing to property line between Mary & Dunlop streets.
Improved accessibility for sidewalks and building entrances.
Complete replacement of sidewalk, curb, gutter & asphalt
Decorative sidewalk & street light poles will be added in the downtown portion of Isaac Street, cohesive with the design of Albert Street.
Full road construction with new asphalt
Project Phases / Timelines
Birnam Construction is scheduled to begin the week of May 15, 2023. The work expected that week will be pulverizing the asphalt & setting up temporary watermain from Huron to Dunlop Street. There is a short extension of the sewer forcemain on Isaac Street in the Industrial Park as well. The following is the underground work schedule:
Phase 1 – Dunlop Street to Joseph Street. Starting May 23, 2023 with tentative completion June 13, 2023. Once the excavation work begins in the Phase 1 section the road will be only open to local traffic and could be impassable at times. Phase 2 & 3 section traffic will remain open until further notice.
Phase 2 – Huron Street to Mary Street. Tentatively starting June 13, 2023 with completion June 23, 2023
Phase 3 – Mary Street to Joseph Street. Tentatively starting June 23, 2023 and completion July 23, 2023
Phase 4 – Industrial Park Sewer forcemain extension. Tentatively starting August 23, 2023 and completion September 4, 2023.
Other Notables
Services such as garbage & recycling pickup will remain in effect throughout the project.
Roadworks and restoration will be done at various stages the majority of them are scheduled in July, August & early September.
The project completion date is October 31, 2023
Updates will be provided throughout the construction process through the Municipality of Central Huron social media platforms, so please follow us on Facebook, Instagram or Twitter.
Construction can be an inconvenience but we are hoping that Central Huron staff can work with you to make it as smooth as possible. At any point during the project if you have any concerns let us know and we will do our best to address them. Central Huron staff contact information is below.
Ian Koetsier
Water/Sewer Manager
519 482 3997 Ext. 1227
Brady Nolan
Roads Manager
519 482 3997 Ext. 1235
Angela Smith
Community Improvement Coordinator
519 482 3997 Ext. 1228