Voter Information
Voter Information - Municipal Election 2022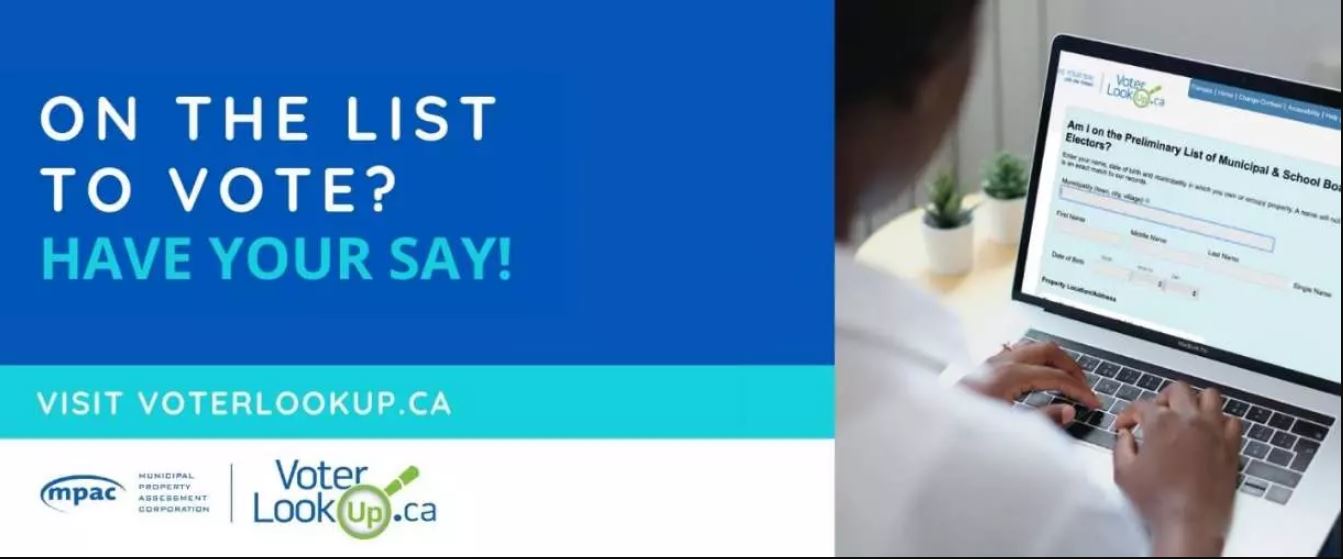 We all play a role in ensuring a fair electoral system, and it is the responsibility of every elector to make sure their information is up-to-date and accurately reflected for electoral purposes. By logging into voterlookup.ca, eligible electors can:
Confirm or update their electoral information;
Add an elector name to an address; and,
Change school support for the purpose of voting in a school board election.
The Municipal Property Assessment Corporation (MPAC) is responsible for collecting the information of Ontario residents in order to create a Preliminary list of Electors for the upcoming 2022 Election. Municipalities will use this list to prepare the Voters list for the 2022 Municipal and School Board Elections.
*Please note that the MPAC Voter Lookup tool does not allow for the removal of electors. If you need to make any deletions, please contact MPAC at 1-866-296-6722.*
Corrections to the Voters List
On September 1, 2022 (start of the revision period) during regular business hours until the close of polls on October 24, 2022 at 8pm, you can be added to the Voters list by contacting the Town Hall office at 519 482 3997.
Where to Vote
Voting in the 2022 Municipal Election will be by telephone or Internet. All eligible voters will receive a Voter Information Letter by mail. This sealed envelope will contain a Personal Identification Number (PIN) and a telephone access number and a secure Internet address for voting. This allows voters to vote from the convenience of their own home or office. Contact information for the Voter Help Centre will also be included.

Electors may cast a vote from any location worldwide as long as they have the information in their Voter Information Letter. All Huron County Libraries offer wireless internet that can be used as a resource for residents.
Voting Process
As Voting Day gets closer, eligible voters will receive a Voter Information Letter in the mail via Canada Post which will include the following:
Instructions on how to vote using the internet or telephone
Unique PIN allowing each voter to vote once
Dates and hours of voting
Contact information for assistance with voting or other inquiries

Should a voter receive more than one Voter Information Letter, they must return the other letter(s) to Town Hall Municipal Office. Electors will be given an opportunity to change their vote before confirming the vote. The voting system allows voters to decline from voting if they wish. The Clerk will report the "unofficial" results after the close of polls on October 24, 2022, at 8:00 pm.
Voter Identification
For a list of Acceptable Documents for Voter Identification please follow the link below:
Province of Ontario - List of Acceptable Documents for Voter Identification
Central Huron Municipal Election Accessibility Plan
All electors may vote with the assistance of a support person or election official that has taken the appropriate oath.
Free internet access is available at all Huron County Library locations.
Common Errors
Tenants not being on the list or they are on the list and they no longer reside at that address.
The spouse of an owner of a property that is not a "registered owner" at the Land Registry Office.
Change of name due to marriage.